---
Special Editions
---
Before diving in to the unique versions of the Terminator, I thought it would be worth re-hashing some basics from back in the day when they could be ordered new from Ford. You were actually quite limited as to options, with the exception of body style or color, including two different convertible tops in 2003. The Ordering guides for 2003 and 2004 break down all the features of the vehicle, but for the most part, you just had to just decide if you wanted a coupe (order code 300A), or a convertible (order code 350A).
It's actually somewhat useless trivia, but really, you had only three main options that were available (with one more added in 2004). The first was a spoiler delete, which was specified by code 13K. Next, you could get chrome wheels by selecting code 64V. Finally, there was a California emissions option with its own code and some slight variations (that one is really useless trivia). After that, the other differences pertained specifically to, of all things, the "Special Editions"...
2003: 10th Anniversary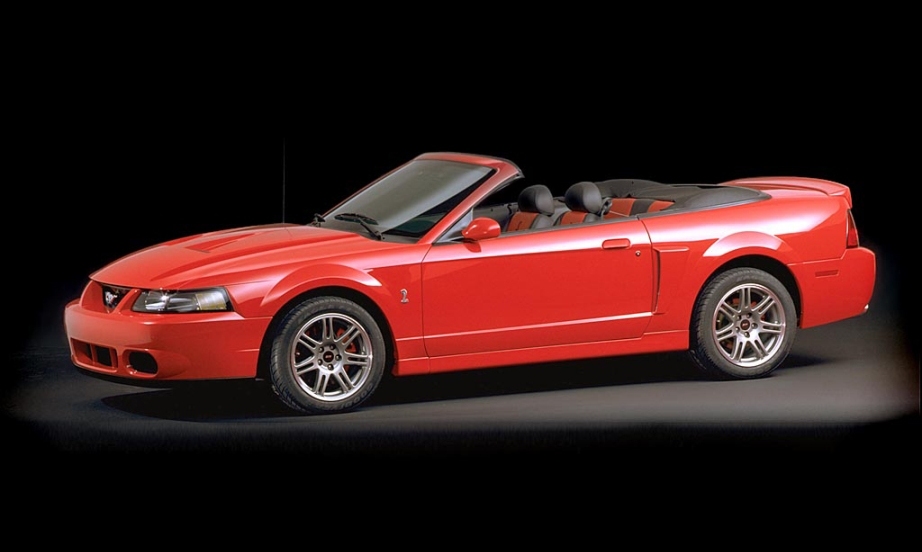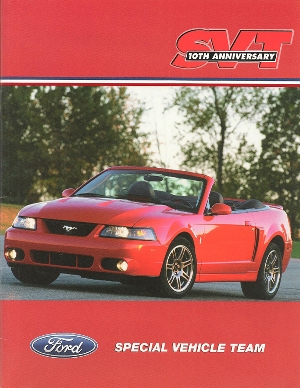 For 2003, Ford introduced a limited run of Cobra models to commemorate the 10th Anniversary of the Special Vehicle Team. The Anniversary model was actually introduced in November of 2002 at the annual SEMA show, but they were produced only during June and July of 2003. With a run of 2,003 vehicles, they were split with 1,003 in coupe form and 1,000 as convertibles. Although these editions were standard Cobra's in terms of their mechanicals, they were given a dress-up treatment from Ford to set them off. In addition to the reveal at SEMA, the newest Cobra was also featured in articles by the Mustang Times, and Collectible Automobile, which offered more information as to the features. Click the thumbnail, and you can also download the 2003 SVT Product Guide with some additional details.
Unlike the other Terminators, these were available in only three colors: Black (UA), Silver Metallic (YN), and Torch Red (D3). Interestingly enough, the Anniversary package was actually not an add-on option for a standard Cobra, but had a unique order code for either the coupe or convertible. This time, it would be 325A for the coupe or 375A for the convertible (if you are really astute, you'll find the error on the second picture).
Unfortunately, Ford wasn't going to make this a freebie of any sort since the Anniversary edition still carried a price tag right around $1,700 more than the standard versions. Although the body colors weren't out of the ordinary, the external changes came in the form of red powder coated brake calipers that hid behind unique seven-spoke 17" wheels, as well as commemorative badge on the deck lid. Still, if you wanted a car to stand out, this was a great way to go about it.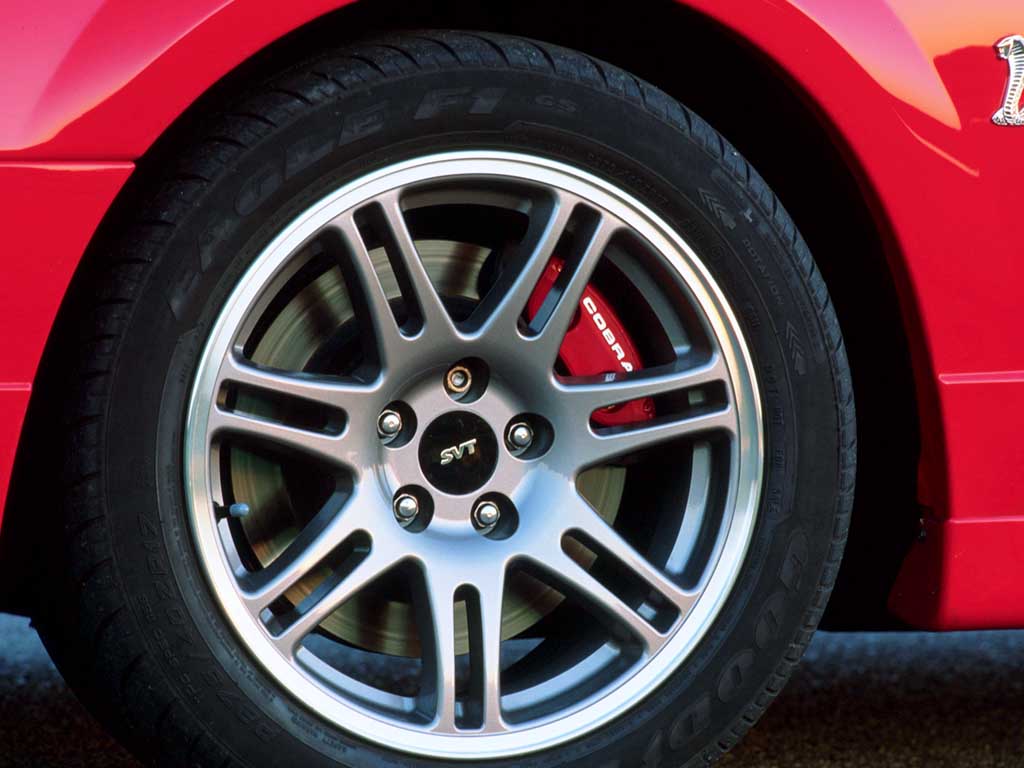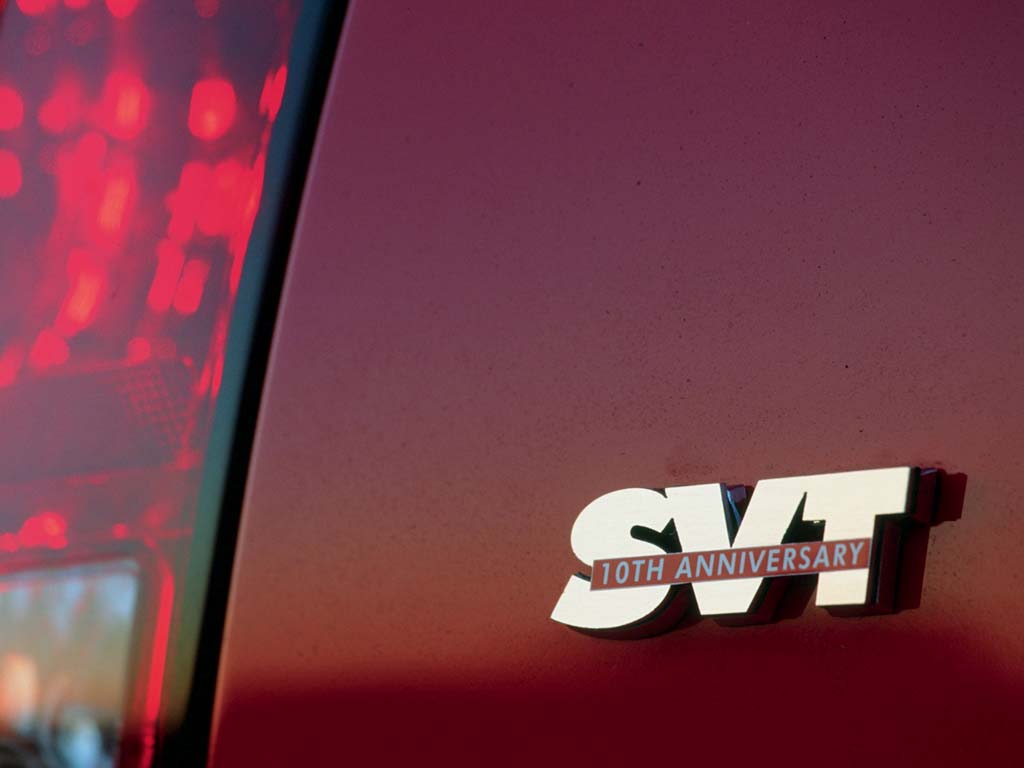 Following along with the red brake calipers, the interior was given a similar treatment with "Colorado Red" inserts in not only the seats (all leather), but the door handle cups on both sides. Not wanting to stop there, Ford added carbon fiber leather trim to the steering wheel (now unique), shift boot, shift knob, and the emergency brake boot. To top it all off, the standard floor mats now had 10th Anniversary emblems riveted to them.
10th Anniversary Gallery
Like the other Cobra models, the crew at SVT made sure you knew your car was special by sending you welcome letters to accompany the build certificate. Although the certificate only showed the production sequence number from the entire year, the second letter let you know where your Cobra fell with regards to this run of 2,003 vehicles - a nice touch. Examples of these documents and window stickers from both versions are shown below, along with a digital version of the Anniversary-only data card. Beneath them, there is also the poster that was printed to commemorate SVT's 10th Anniversary - and it's still available through Ford Show Parts. Grab one before they are gone!

2004: Mystichrome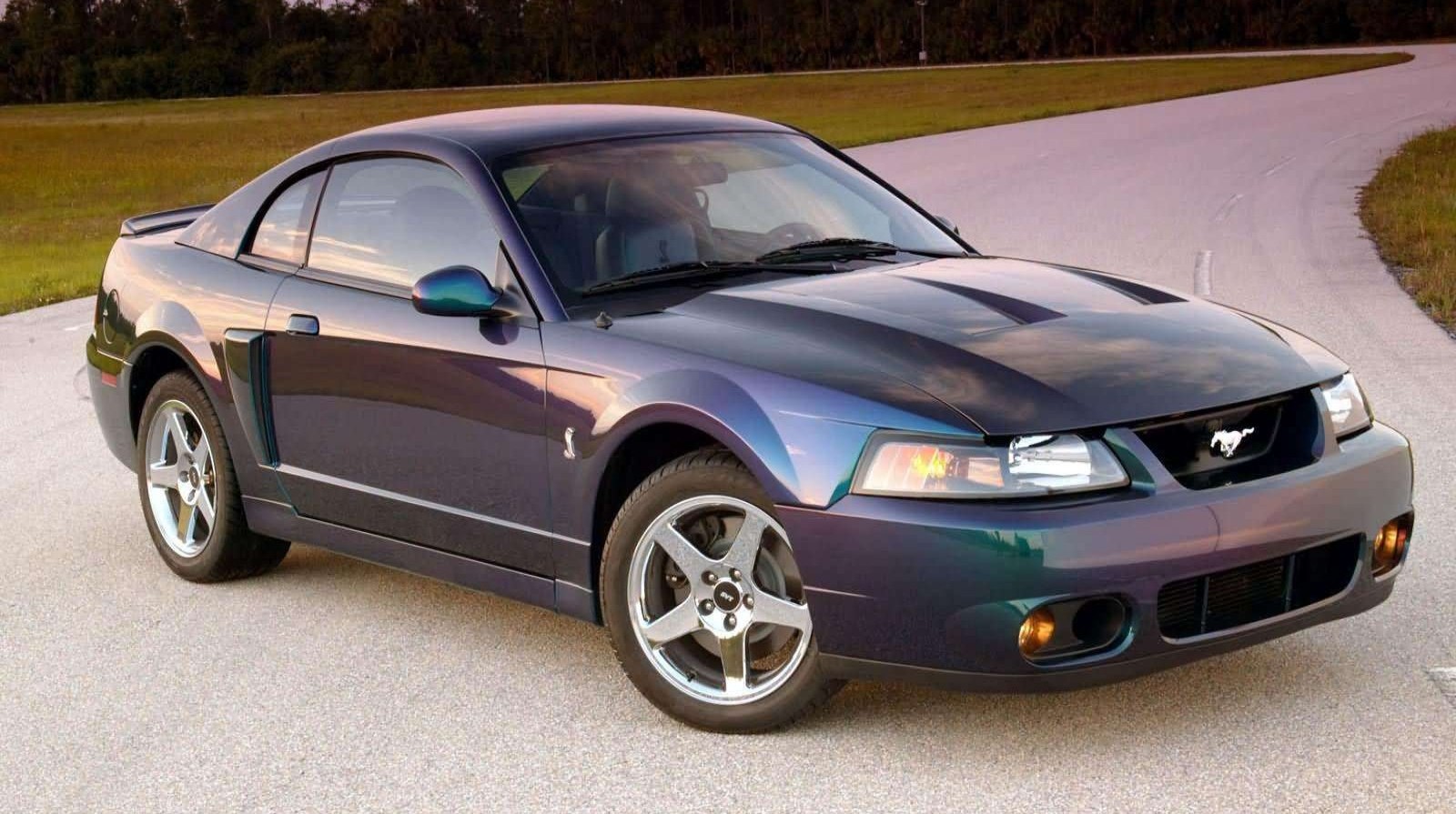 The 2004 special edition Mystichrome package Cobra was unveiled at the New York Auto show in April 2003, so if you had your heart set on the upcoming Anniversary version back then, this one could have changed your mind. Ford issued a press release announcing the add-on package available with the new model and also gave it a spread in the 2004 brochure - a slight change from the previous year. There is also a 2004 SVT Product Guide - available by clicking the image to the left. Unfortunately, there was no data card like with the Anniversary edition.
If you know Terminators, chances are you've seen one with this special DuPont paint at some point, and to say it is unique is definitely an understatement. Just to clarify, this version was similar, but not the same as the 1996 Mystic model. While they both had colors that "shifted", for 2004 you got a newer technology with expanded hues. The same features were also added to the matching steering wheel and leather seats - a first.
Although only 1,000 were initially scheduled to be produced, the final number was 1,010 - split between 515 coupes and 495 convertibles. Unlike the previous year, Mystichrome was actually an option (the fourth available), rather than a version with a unique order code. If you wanted it, you would have added code 68M to your coupe or convertible - followed by an additional $3,650. Along with the new paint and interior trim, all also came with 17" chrome wheels. Unlike the Anniversary models, this one used standard front floor mats and the usual Dark Charcoal leather trim on the shifter and emergency brake - still a fantastic look.
Once again, the Special Vehicle Team sent out documentation to owners signifying the limited status of this Cobra, including the welcome letter indicating where you fell in the production sequence. Examples of them are all above. As a bonus, there is an informative article that follows a new convertible down the line at the Dearborn Assembly Plant, courtesy of the Mustang Club of America - definitely a great read for all Terminator owners. If your Cobra is Mystichrome, even better.
Of the 19,140 Terminators produced, only 15% were Special Editions - just 3,013. Although the build certificates state that all Cobra's in 2003 & 2004 were "Limited Editions", realistically, that honor goes to the Anniversary and Mystichrome cars. As a Terminator owner, however, I'd agree they are all unique in one way or another. If you happened to get your hands on one of these in either year, it's just that much more cool!
Ford Media Images
---