---
SVT Stuff
---

A car guy's collection just wouldn't be complete without the novelties that are associated with the vehicle or the hobby itself. Over the years, I've accrued a bunch of things related to the Cobra, Ford, and SVT such as shirts, hats, knick-knacks, etc., but it has been more of a challenge to obtain items that were specific to the Terminator. Just for the heck of it, I wanted to display some of the "stuff" here. While these are mostly Terminator-related, I also included some pictures of SVT items that are still a bit on the rare side.
Engine model
This is definitely a piece of Terminator history that is not seen very often: a 1:4 scale model of the supercharged engine. These were once made by the former Georgia Marketing & Promotions (GMP), now Acme Diecast, and were limited to a run of 1000. They were also made for the '99/'01 Cobra, as well as an Aluminator version for Ford Racing, again 1000 each. All of them pop up on eBay from time to time, so if you have to have one, keep your eyes open.
The detail is amazing, and you can actually turn the crank and watch some of the parts move. It is big too - weighing in at around five pounds and when on the base, standing almost 10" tall. It is even packed in a very cool box that I couldn't resist getting pictures of as well. Click on any thumbnail in the photo gallery below to check it out.
Note: For any SVT fan that has been fortunate enough to pick up the latest version of Iron Fist, Lead Foot, many of the pictures on this page may look familiar since they were actually shown in the Appendix and elsewhere. The engine model above will be especially famous among Terminator owners since it was included as well. Even better, Frank was kind enough to mention this site in the Acknowledgements - quite the honor!
Posters
Along with literature and documents, I dig a unique poster. With the exception of the bottom two images in this section, all these rare prints are in my collection. Since I still have an affinity for the 2000 Cobra R, I also had to include those posters. A few of these are actually still available through the Ford Show Parts website, as well as the SVT Store (formerly the SVTOA store), but most of them are long gone!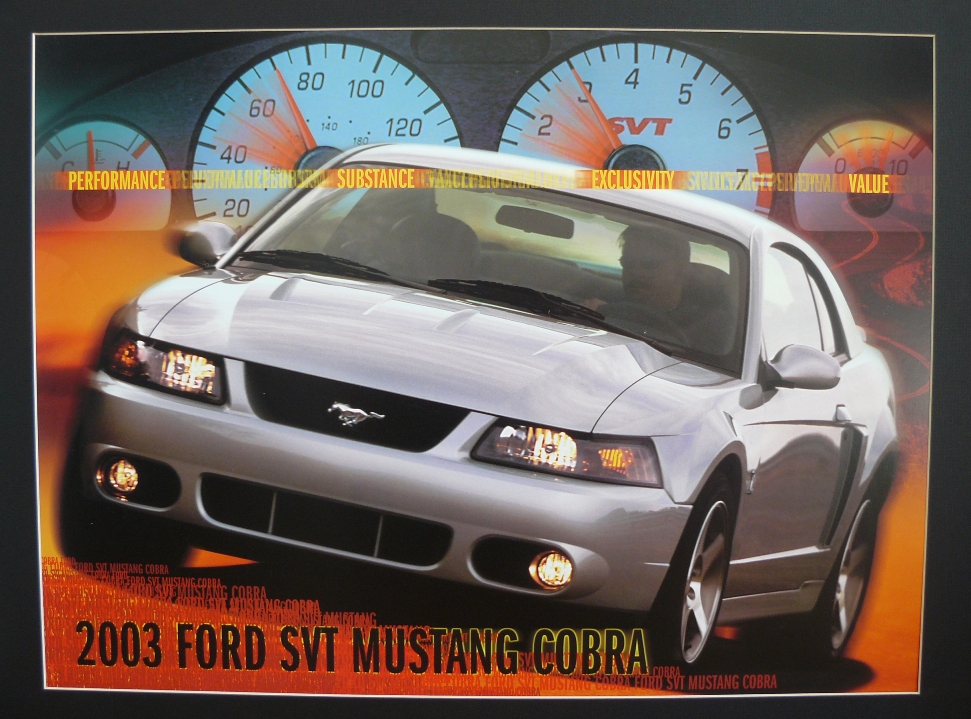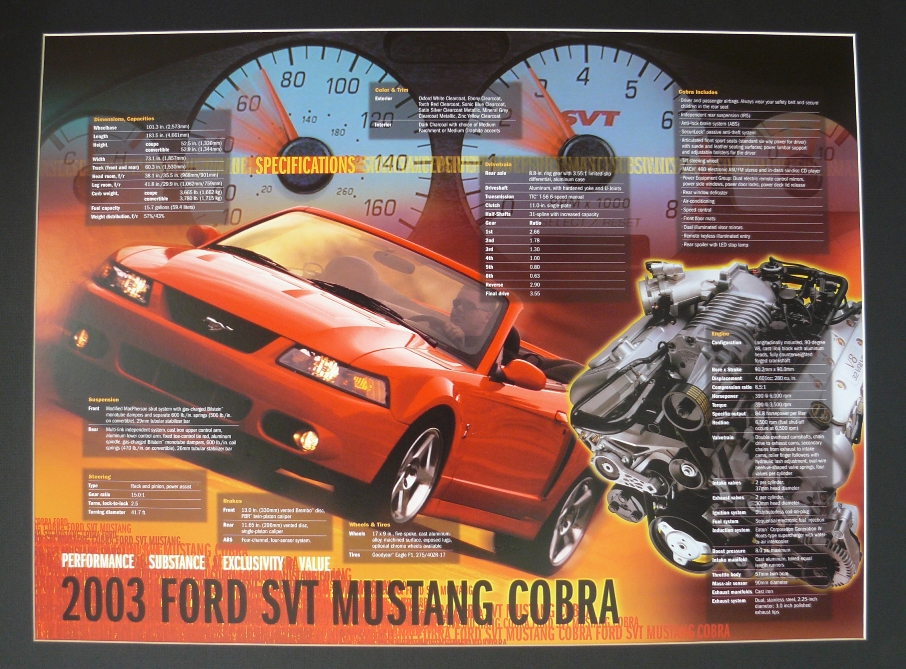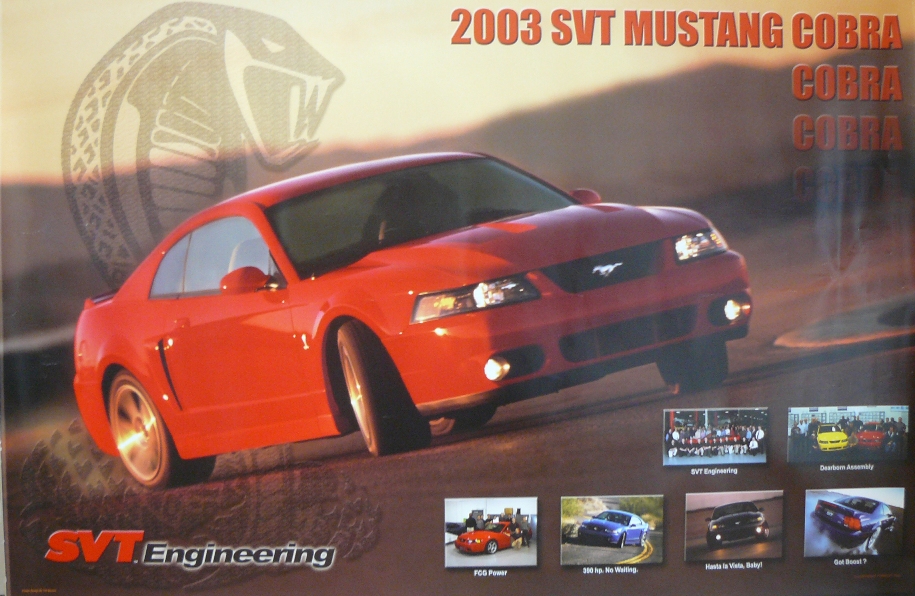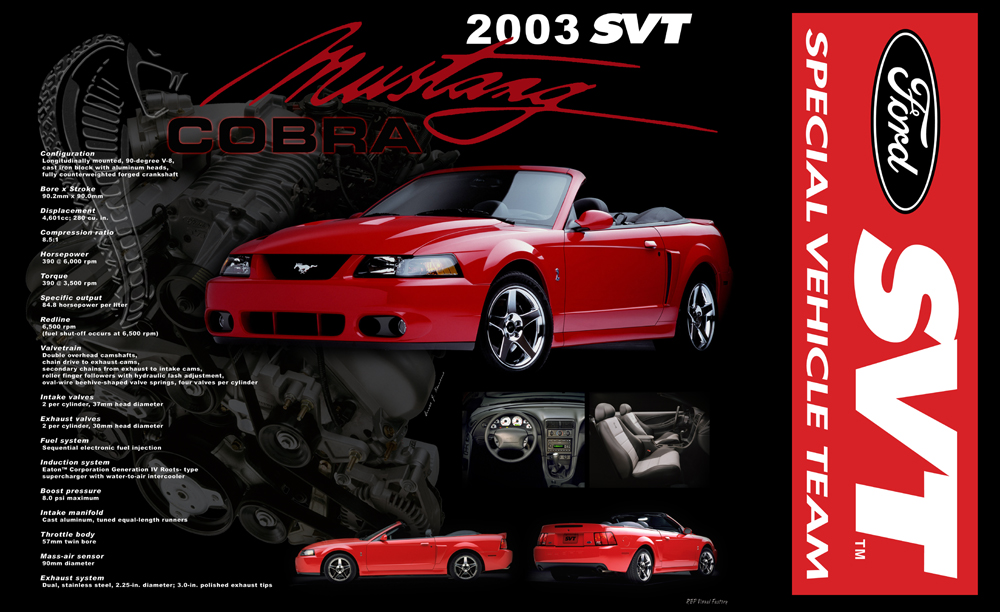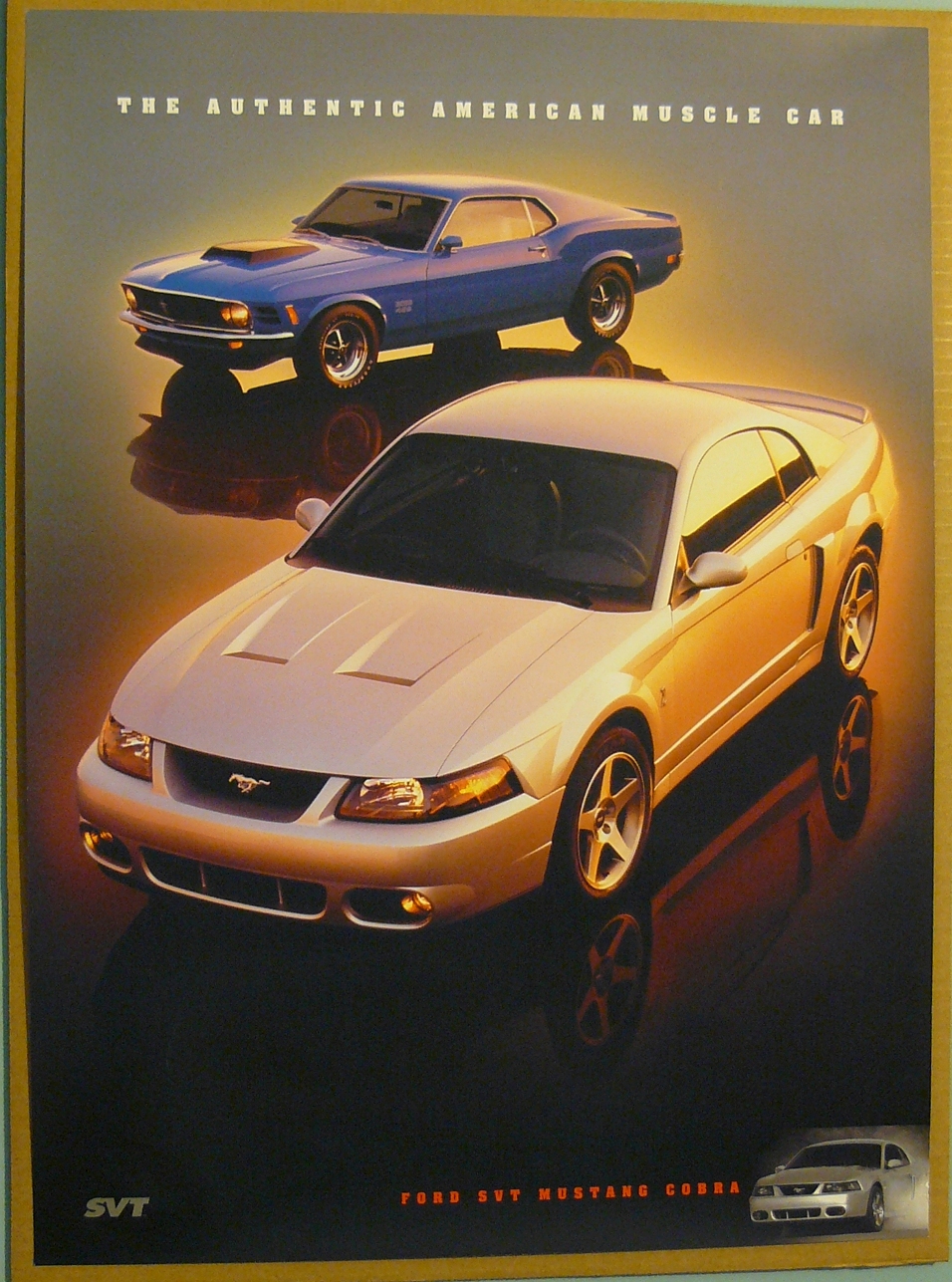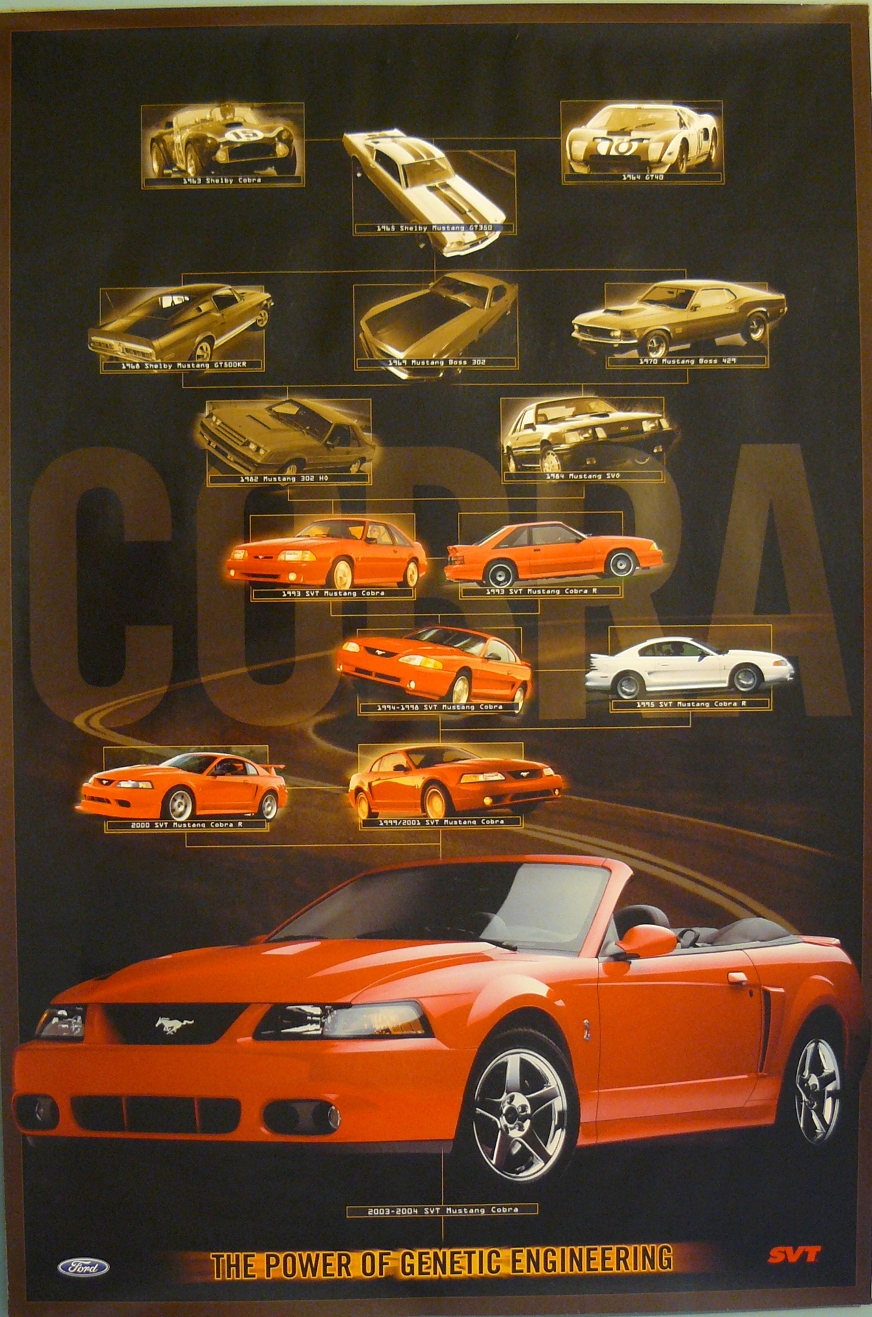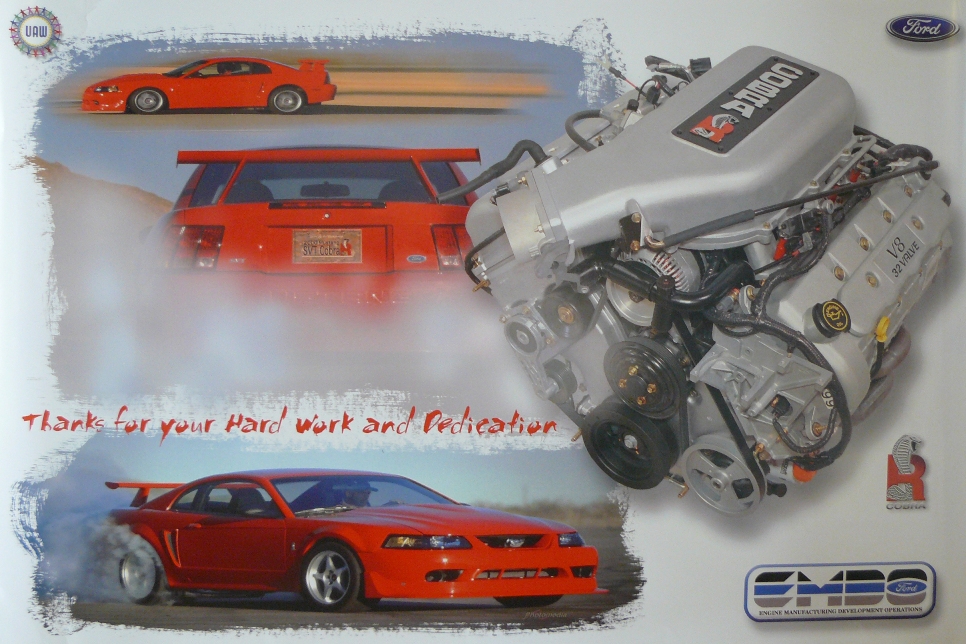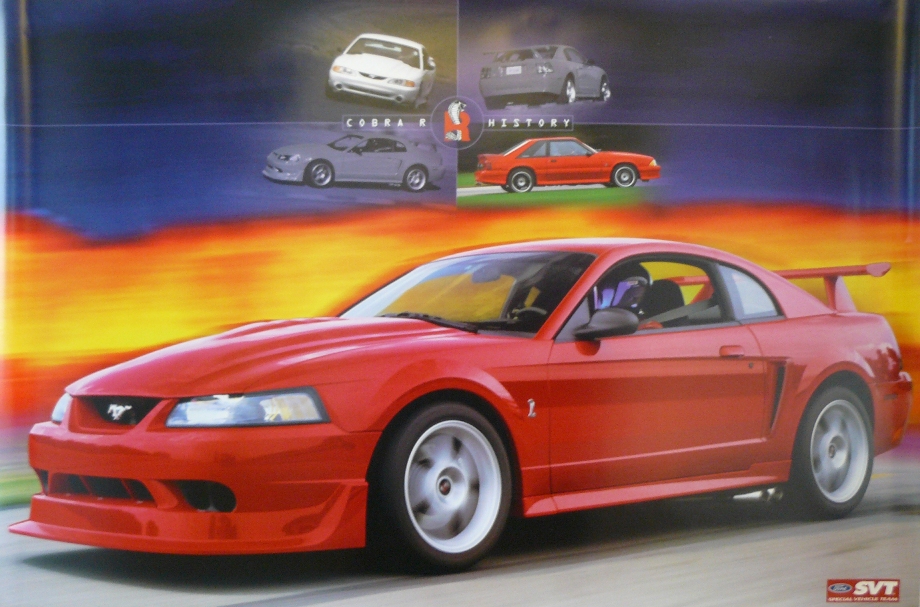 For fun
If there is one part of the Terminator that is an example of its strength, it would be a Manley connecting rod. I acquired a brand new one many years ago with the intention of displaying it, but it wasn't until recently that I mounted it on this custom plaque. If John Coletti wanted one, all Terminator owners should do the same! To say it is a unique trophy is definitely an understatement.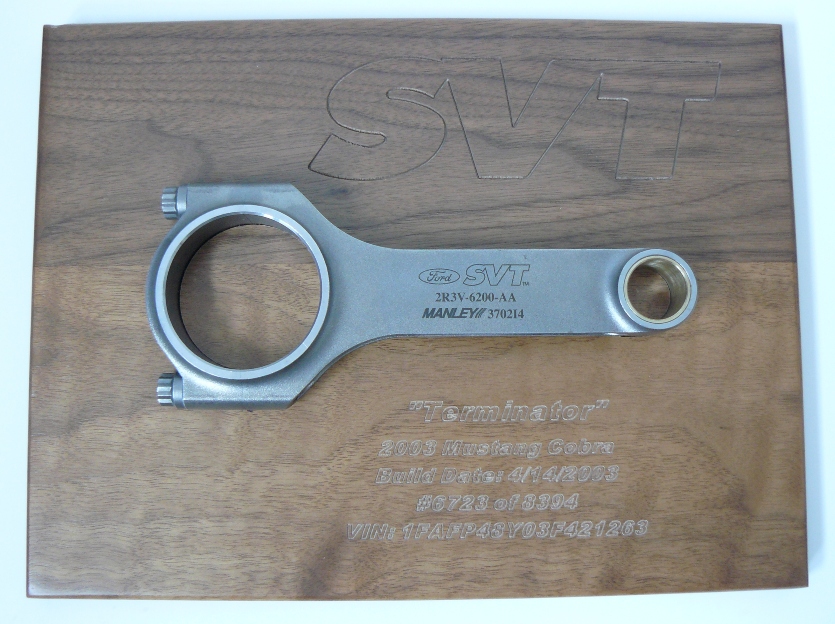 At the 2013 Mustang Owners Club of SE Michigan (MOCSEM) "Mustang Memories" show at Ford HQ, I was fortunate enough to meet Bill Sheffer, one of my original engine builders. Not only was he gracious enough to stop and chat for a while, he gave me two extra engine tags that he and Doug Campbell had signed - very cool! I had been fortunate to chat with Doug via the internet a year or two back, but it was a pleasure to meet one of the guys in person. Thanks again, Bill, (and Doug) as well as the rest of the Terminator engine builders!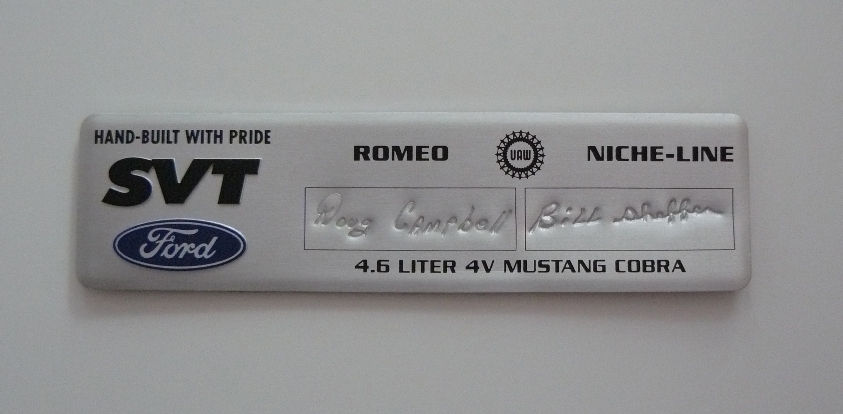 The radiator cover pictured below is the one I only take out for shows. It's not a commercially available piece (autographed, that is), but my friend, and former SVT employee, Jayson was nice enough to have the Terminator crew sign it for me at one of their get-togethers during the summer of 2011. Most of the engineers and staff are around in one way or another, so it was a treat to have them all do this. Thanks also go to former SVT engineer Dave Dempster, whom I suspect did a lot of the real legwork to get this little side project done, especially ensuring that it arrived back in my hands safely!
In 2012, I was fortunate to meet Neil Ressler, the "Father of SVT", at an SVTOA function and he was happy to sign it - perfect for the Mustang Memories show that year. Bill Sheffer had also added his second signature to my car - right under Neil's, which was also neat. Fast forward to 2014 and I finally met Tom Scarpello before the annual Dearborn show at the "Mustang Hero's" banquet, which hosted a whole bunch of big names from the Mustang world along with many that were involved with the 2015 model. His signature is right above John Coletti's toward the right side.
During the Carlisle Ford Nationals in 2015, I was roped in to working/volunteering for the SVTOA (rather than driving my Cobra) and I finally got to meet Camilo Pardo - very cool! He was a neat guy to chat with despite the hectic schedule, and since I knew he'd be there, I brought the cover in. He was glad to oblige and didn't mind that I snapped a picture right when he got started with his autograph session. Now if I can only track down Primo Goffi...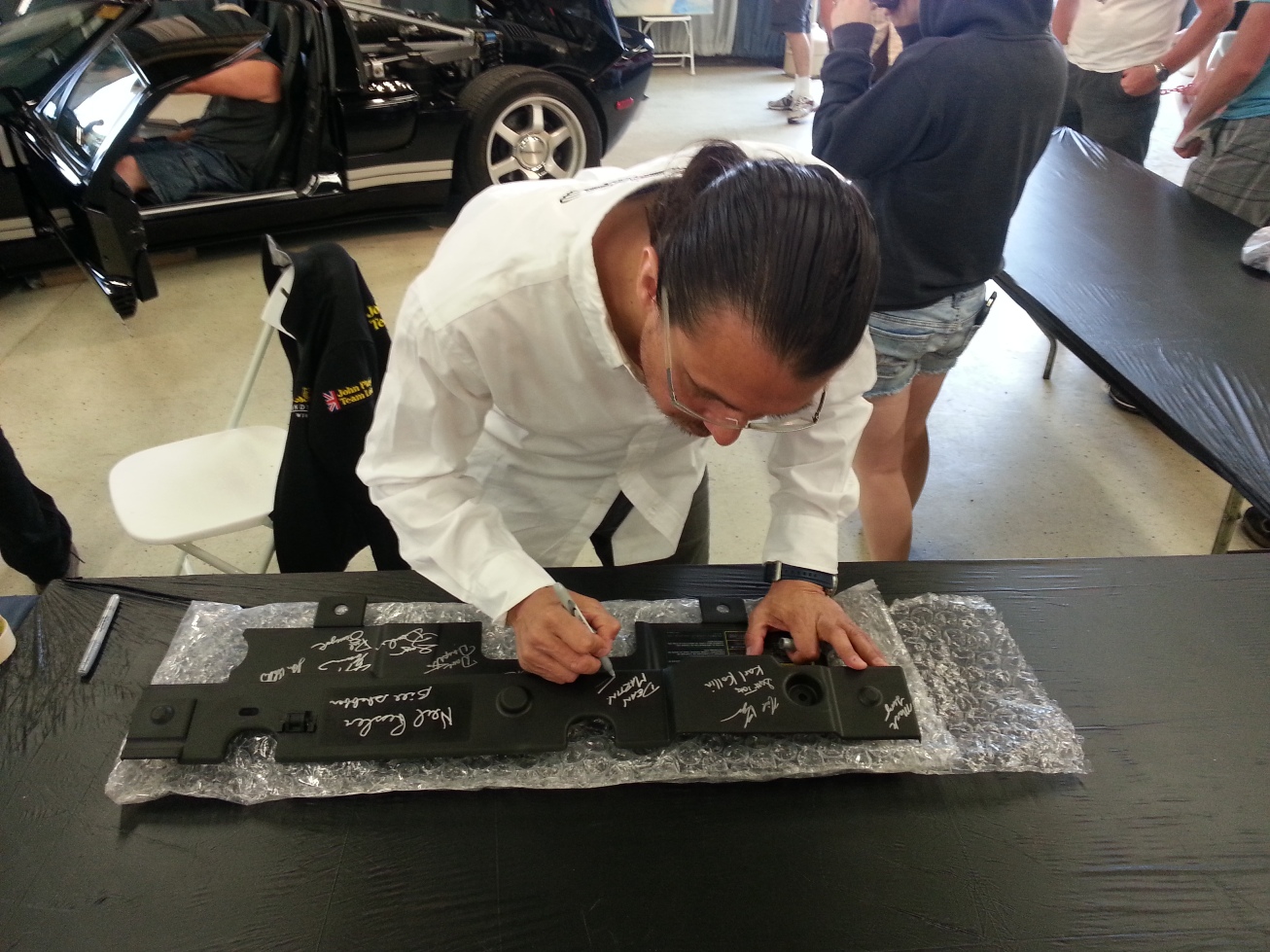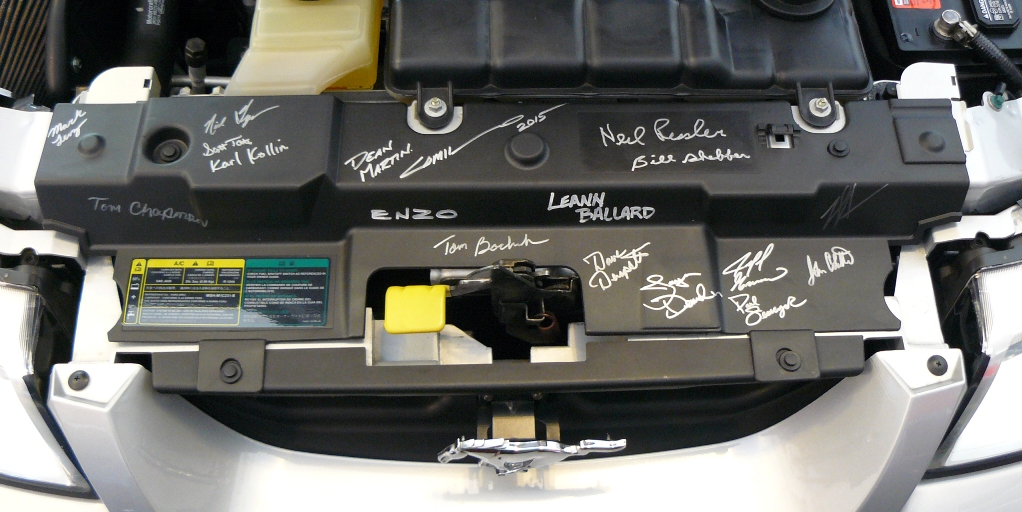 When we aren't showing off our real cars, it's always need to have one in miniature form. Fortunately for Terminator owners, Maisto made many versions of them that are still floating around. I only have the two below, but one is custom to match my own car (other than the '00R hood, but that will happen eventually). They don't normally come down off the shelf, but I figured it was worth taking them out of their boxes just for a couple pictures.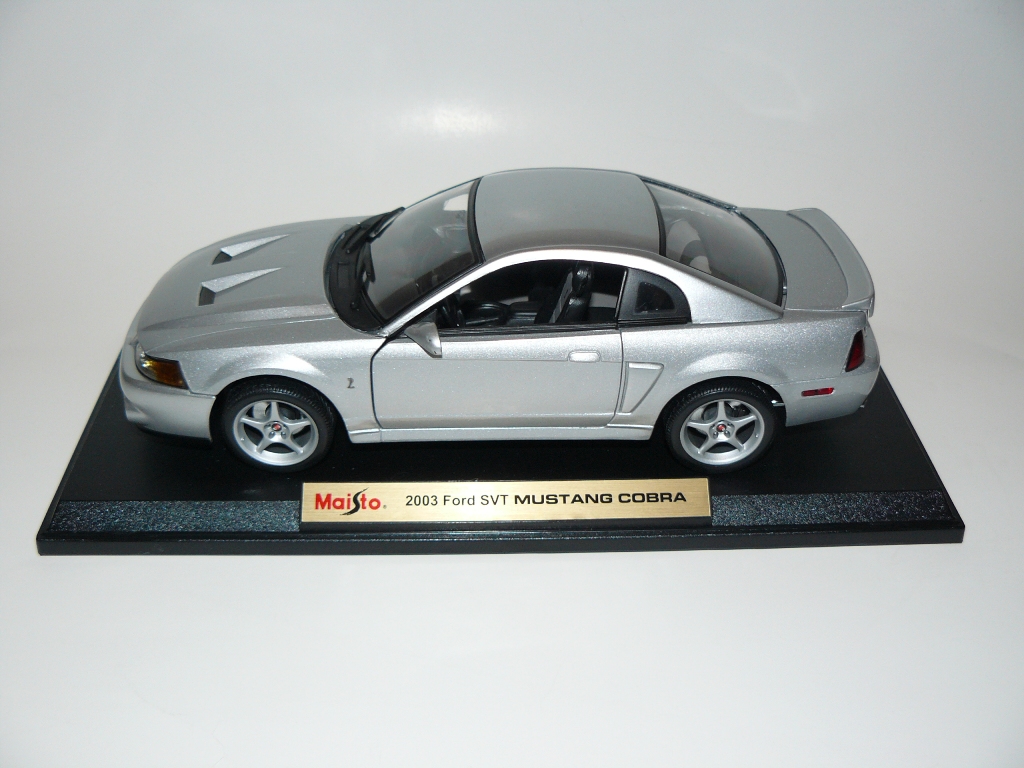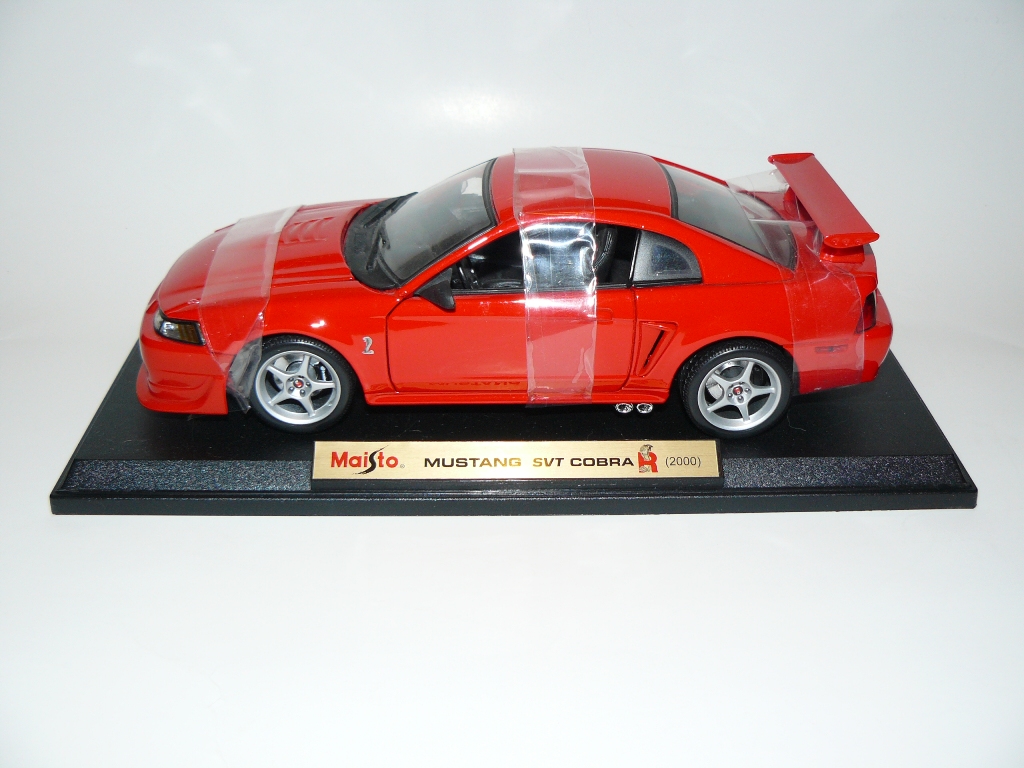 While I didn't bother taking any pictures of my SVT clothing items (well, other than the hats below), I had to include something that actually isn't mine: a shirt signed by the engine builders. At one point, Cobra owners could buy it from the now nonexistent Romeo Niche Line store, but they have been extinct for several years. I missed the boat on this one, but Rich T., out on Long Island, NY sent the picture below. It's too bad, once again, that items like this are no longer available since I bet they would still be great additions to our collections. Thanks for the picture, Rich!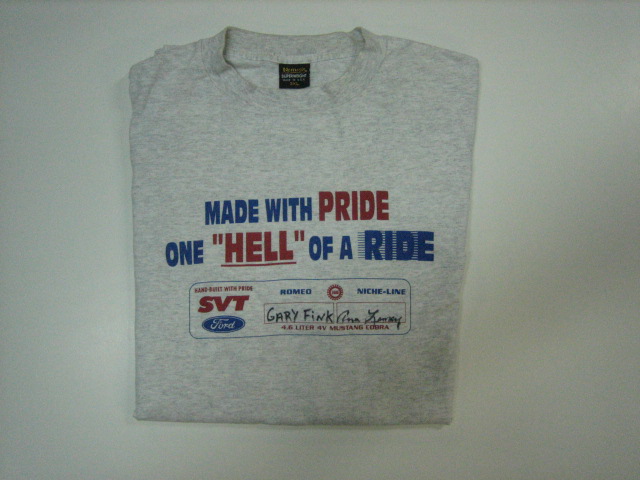 Paraphernalia
Finally, some real - and rare - SVT items. The picture below and to the left is a very neat Terminator mug, actually showing both sides (yes, I have two of them) with specs and the SVT logo. I don't drink coffee, but I wasn't about to pass them up, since - as usual - they are scarce. To the right is something I bet most people have never seen: Mechanix gloves in SVT colors. I've only come across a couple pairs of these over the years and as much as I scour eBay, I have never found others. Needless to say, they stay in the package and will never get used.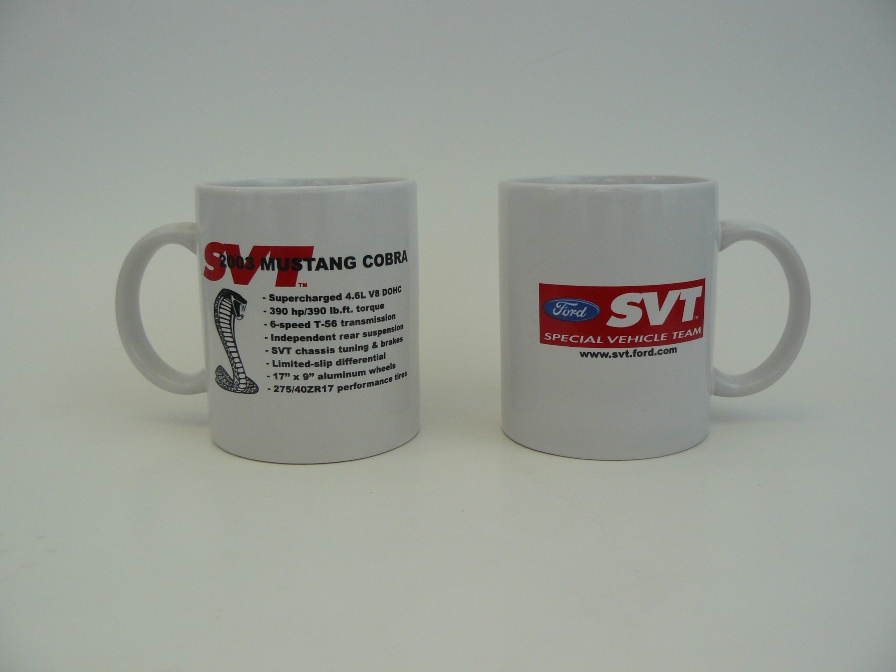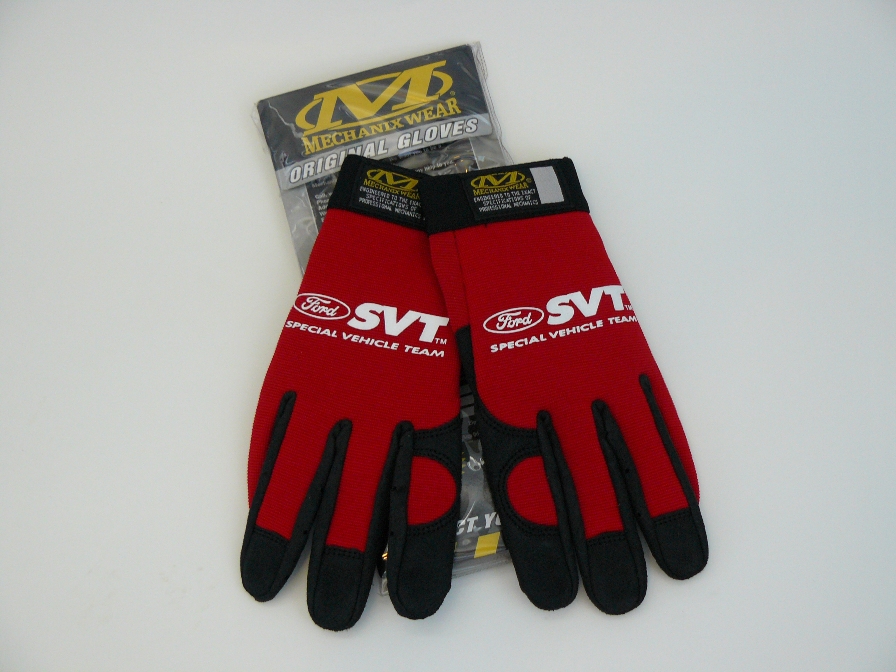 It's hard to beat a nice hat to advertise your hobby, and of all mine, these are the favorites. The black version looks great sitting on the rear shelf of my Cobra for car shows, and of course, I have a few of the red ones for spares in the event I wear one out. The other picture needs no explanation - the official SVT license plate frame that looks perfect on any SVT product. These are rare, and I am lucky enough to have one not only on my Terminator, but an extra one shown here wrapped for safe-keeping.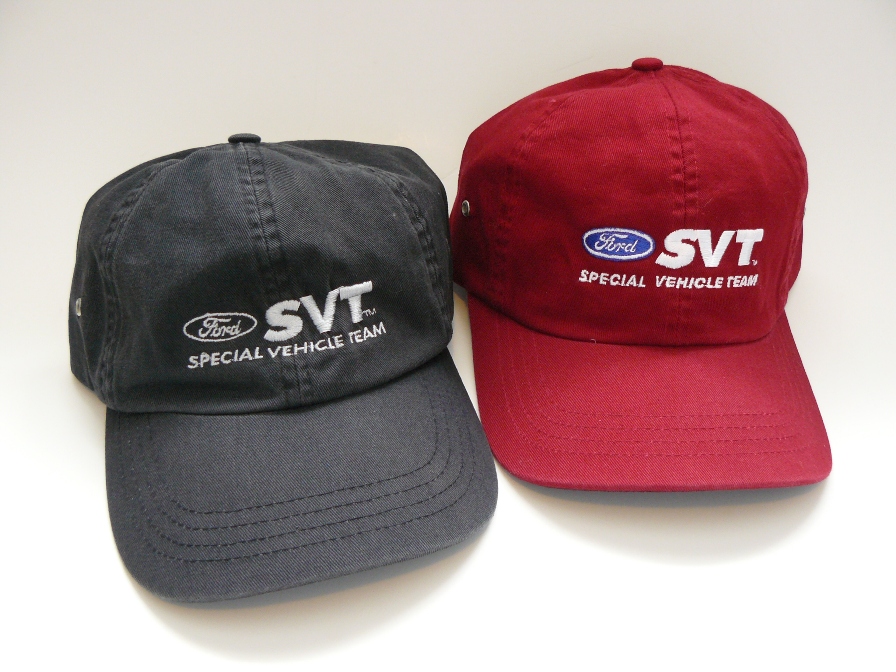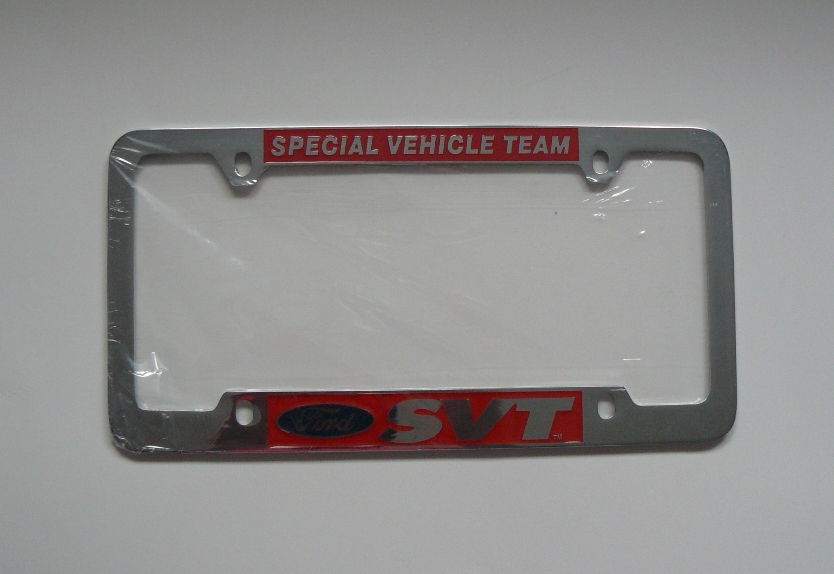 The gizmo below is a neat sticky-note holder that was around several years back. I'm a sucker for anything with SVT on it, and this looks great on display. The paper with the Ford logo will probably never be found if I use it up, so it just sits there and looks good. I'm not sure what I'll do with the other items below and to the right (actually, a good key ring always comes in handy), but I still just can't bring myself to pass up on this stuff when I come across it.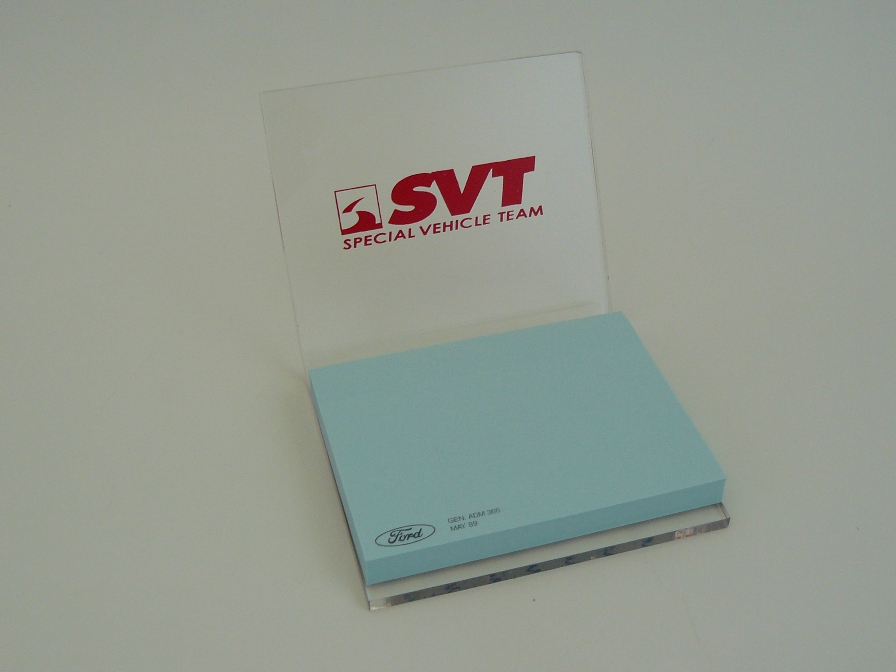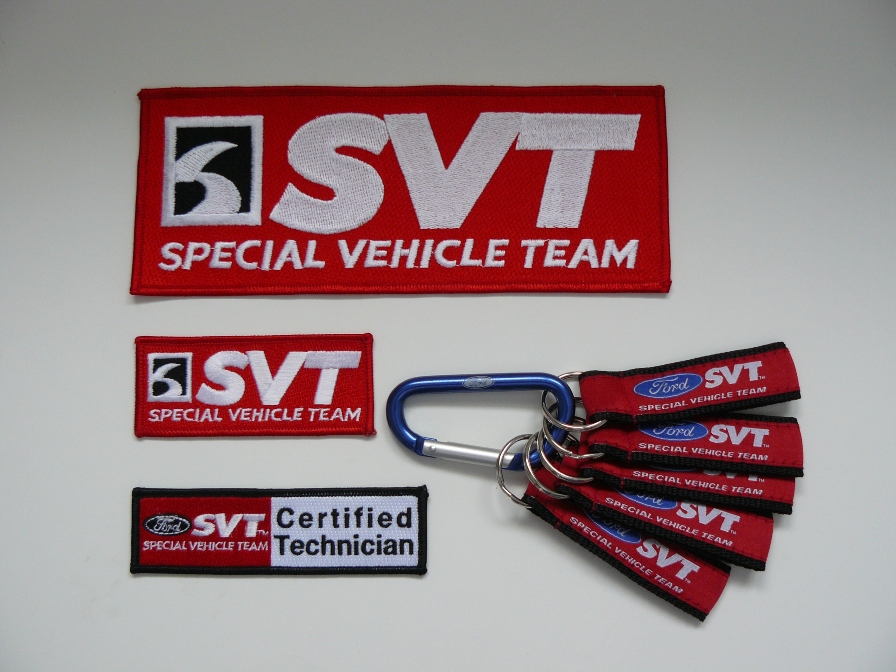 The end of this page looks similar to the beginning - with an SVT logo. This one, however, happens to be a banner hanging in the man cave (that would be my garage). It's approximately five feet across and looks absolutely perfect on the wall near my Terminator. Feel fortunate if you've ever been able to get your hands on one from back in the day, but not to worry, they are available again as a licensed item at the SVT Store (as are updated versions of many other items on this page). The new releases can also be purchased in many different sizes - still a great item for any SVT fan!

---