---
Exterior
---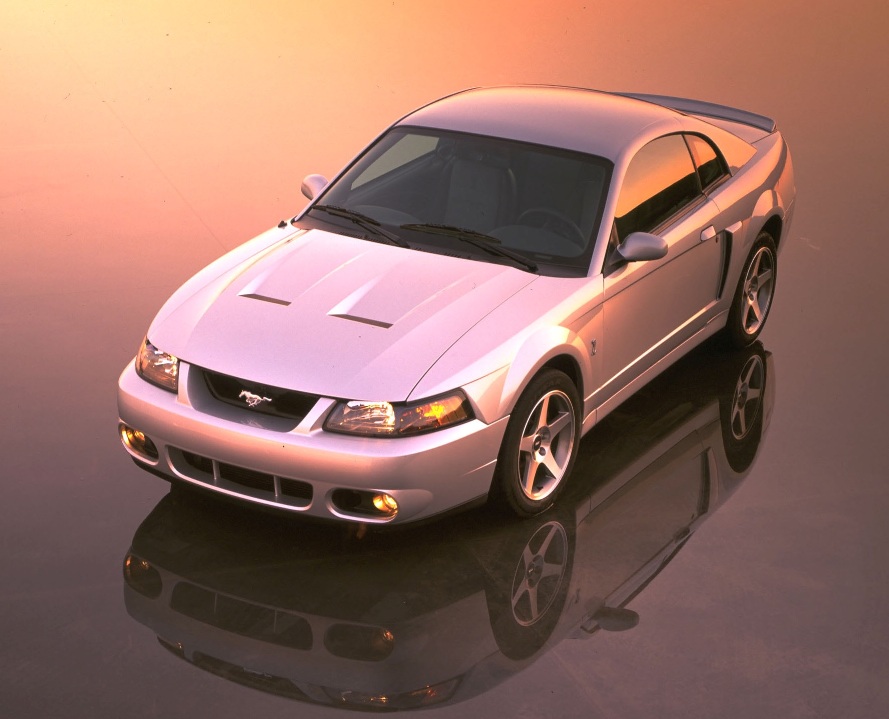 Featured

The New Edge Mustangs are fantastic looking cars, and the Cobras are no exception. One of the neat things about the 2003 Cobra is that it was sculpted right over an existing Mustang in the design studio, rather than molded from scratch on a body buck, or template. It retained the newer DNA, but became uniquely Terminator; every line portrays the muscular stance that definitely looks great after all these years. When Camilo Pardo took cues from his Ford GT design and transferred them to this project, he really nailed it.
All that being said, the one major exterior item I did want to change was the hood - but not because I didn't like the way it looked. As far as aerodynamics go, the Terminator hood scoops do a decent job of drawing air up through the radiator as well as venting some of the high-pressure air under the hood, but radiant heat is another issue - especially aft of the vents. My main concern was that heat around the engine, and especially the supercharger housing. I wanted a hood vented above the intake that would allow forced air to also move up and around the engine and supercharger, then flow out without being affected by the higher pressure area at the base of the windshield.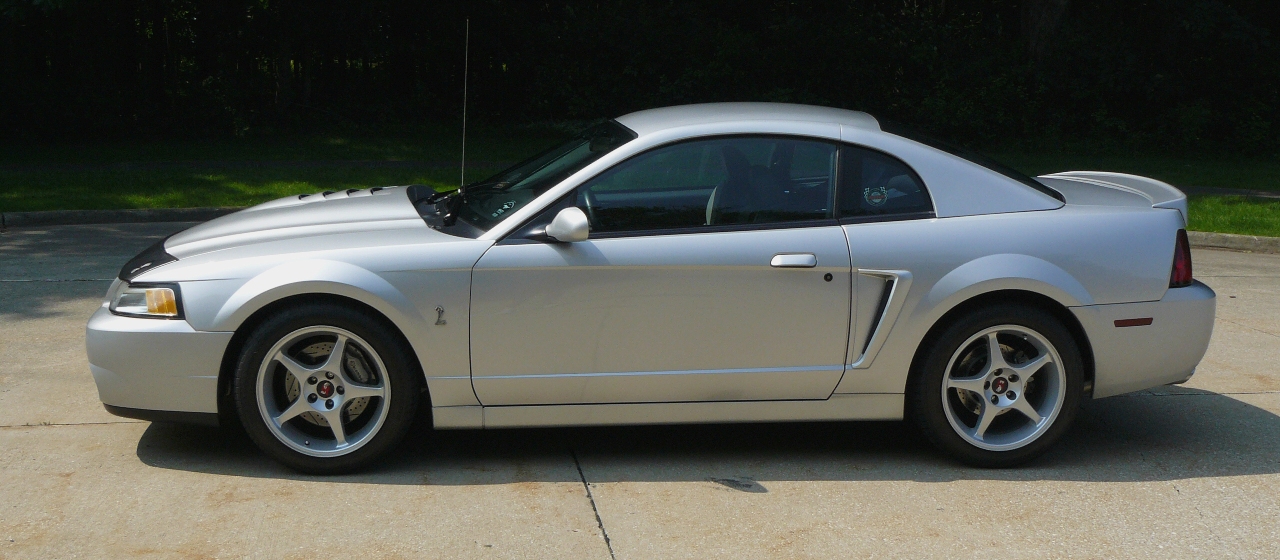 Note: If you've ever added an aftermarket hood, chances are, it just wouldn't latch properly after it was bolted on. Despite a great overall fit, I ran in to the same issue here, but the solution is quite simple. The factory hood latch needed to be temporarily removed, and then a lone washer was placed underneath the locating bracket to raise the mechanism just enough so the arm would now engage completely. I also removed the locating pins on the latch since mine needed as much vertical travel as it could get. Simple enough. I neglected to grab my camera, but since it has happened before, I was able to find a perfect example picture of where the washer needs to be placed.
The perfect solution was a Ford Racing M-16612-R00 Cobra R hood, in vented form, which is made by H.O. Fibertrends. I was initially inspired by the Cadillac CTS-V race hood, and although I didn't get as radical, the R hood turned out to be a fantastic addition. I did also like what Shelby did with the GT-500KR hood, but adding vents on the sides would have involved cutting - not going to happen - so keeping with my theme, the FRPP part was a win for both form as well as function.
It works amazingly well, looks right at home, and really lets out the engine bay heat nicely. Not only is this a bonus with a supercharger on top, the engine bay itself just doesn't feel as wickedly hot as it did while under the factory hood. With a Whipple 2.3 coming in early '18, this hood will contribute to even more to lower temperatures. As another added bonus, it weighs in at right about 25 pounds (approximately 20 pounds less than the OEM hood) - in an absolutely perfect place to drop some weight.
One item worth mentioning is the fit of the hood at the front edge. The top of the Terminator bumper was redesigned with a bit more rearward rake, which meant the hood was shortened slightly to accommodate this. The Cobra R hood is a hair longer to match the opening of the previous Cobra bumpers, but unless you are looking for it, you probably wouldn't notice. The picture below, and to the left shows the front lip of my R hood, and the one to the right is a factory hood. It's not really an issue, but if you shy away from this hood since you heard "it doesn't fit right", this will hopefully clear it up.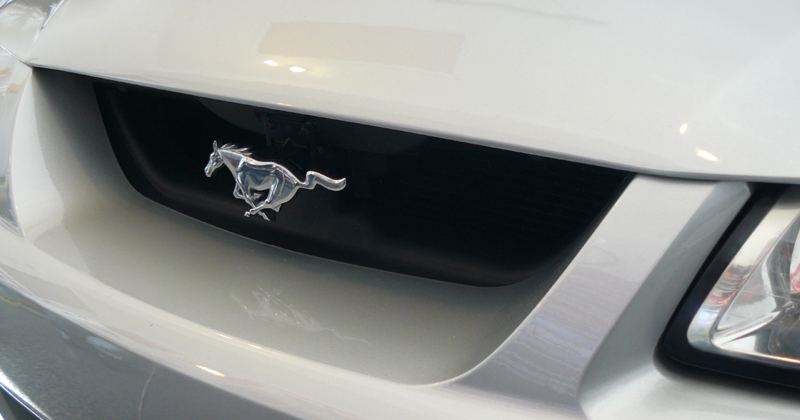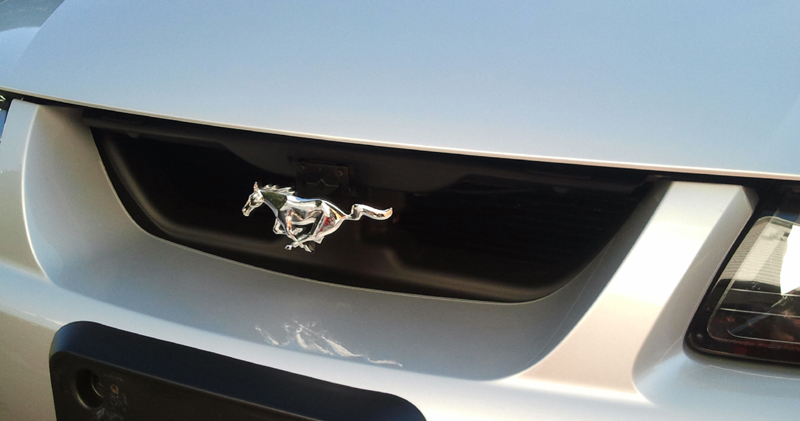 Note: In the above two pictures, the factory running horse emblems are shown. Yes, this is what Ford has installed on the Cobra going back to the first model in 1993 - none came with a snake in this area! I can't tell you how many times I hear people comment about a Cobra not being a "real Cobra" since it has a pony in the grille. Any snake you see up there is aftermarket: someone made a bracket to fit and simply stuck the snake fender emblem on it (some face right, and some left)! If you don't believe me, the Ford part number for the pony is XR3Z-8A224-AA. They are still out there.

One of my first projects for 2015 was something I've been meaning to do for quite a while - remove the factory side scoops. I'm probably in the minority when it comes to lacking a fondness for them, but I always thought this "aggressive" version on the Terminator gave the side of the car a little too much paunch. It was a perfect excuse to tone it down a bit, especially since the 2000 Cobra R scoops look right at home - yet another match to my theme.
In all honesty, the scoops on the R weren't actually unique to it alone, they were simply those used on the base model, (each Cobra R started out as a V-6 chassis) as well as the GT and Cobra prior to 2001. As much as I also liked the "scoop delete" used on the resurrected 2001 Mustang Bullitt, they are obsolete from Ford and always on the pricey side if you can even find them on the used market. I also had no desire to mess with any sheet metal and body work that would have been required to eliminate the scoops altogether (like one of the original FR-500 prototypes) - way too much work there. Fortunately the base model versions were plentiful, and in my opinion, look fantastic.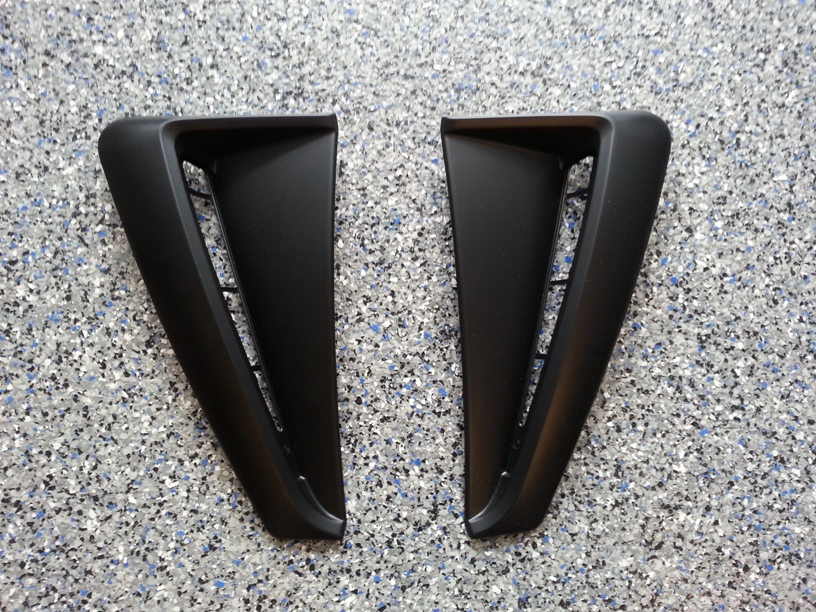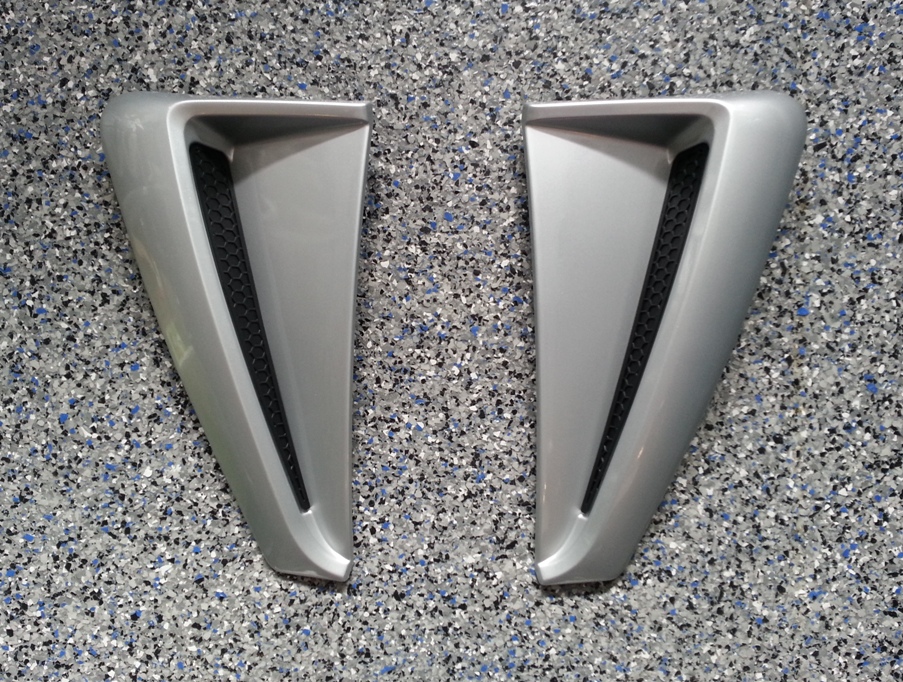 If you are also unusual enough to like these, they can be snagged easily through the internet or any Ford dealer. The part numbers for the scoops themselves are 4R3Z-63279D36-DPTM and 4R3Z-63279D37-DPTM. In addition, the "honeycomb" inserts are 1R3Z-63279D38-AAA and 1R3Z-63279D39-AAA. The pictures above show the scoops in their bare state when new, and then right before installation with the fresh paint. They are also shown at the top of this page and will show up in other places on the site as well.
The swap is actually quite simple too: since the scoops are held on by six plastic push pins, they literally just pull right off. There is also a foam "gasket" behind each of them that seal off a small cavity in the quarter panel - definitely worth keeping (a bit of spray adhesive helped them stick back on). Once I cleaned the dust off the sheet metal, re-attached the gasket, then transferred the push-pins, the new scoops simply popped right in to place. Another unique touch that came out perfect.
Note: The Terminator side scoops contain specific inserts that have a grill pattern that matches the hood vents. Like so many other parts out there, they are now obsolete. Fortunately, those for the Mustang GT from 2001 and up will fit, but they have the honeycomb pattern in them instead. For those that have read Iron Fist, Lead Foot, you'll recall that the inserts are the only parts on the car that actually have "Terminator" imprinted on them. There is also a picture in Frank's book on page 123 - check it out!
If you are still hanging on to the archaic factory prop-rod, I'll have to ask: Why? Not only do aftermarket hood struts work very well to hold up your hood, they are out of your way when working over the engine. I chose to pick up the QuickLift Plus kit from Redline Tuning, although there are other options out there, such as those from Mustang Racing Technologies (MRT) or Classic Design Concepts (CDC). I used them first on my stock Terminator hood, and then easily switched them over to the new hood without any issue thanks to an additional bracket kit. They've worked flawlessly and definitely look great.
Not that I need to point out the obvious (well, maybe I do), but one potential drawback with the Redline kit is that you have to drill holes in the hood so the upper brackets can be attached with rivets. I will admit, however, that I initially shied away from the MRT-type kits because I just didn't want to fuss with the OEM hood studs (yes, I was paranoid about snapping them). That really wasn't a big deal, since I ultimately removed the factory hood, and once the paint was scuffed from the studs, there were no problems.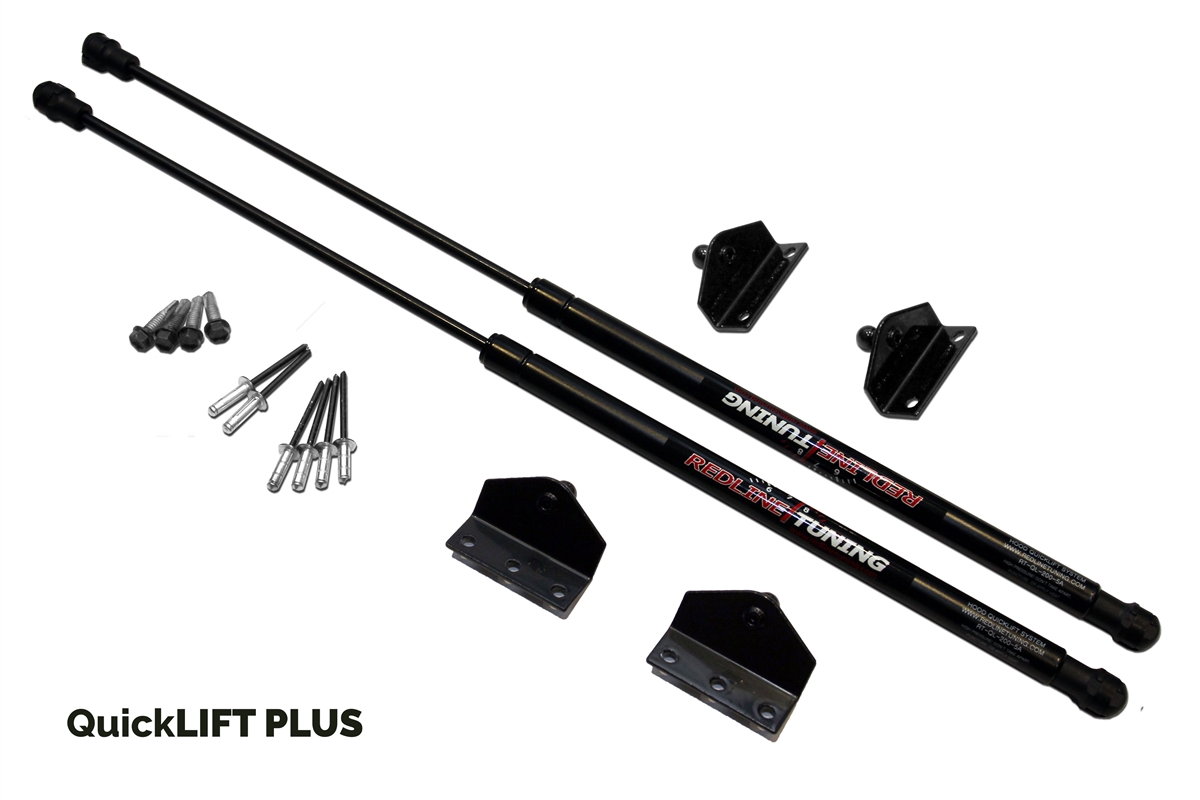 On a better note, when my new '00R hood was being made, extra reinforcement was added on the sides since I planned to rivet the brackets on again for this kit. Somehow, the thought of drilling six more holes in yet another perfectly good hood bothered me less than the slim chance that I could snap a small stud on the factory hood. Go figure. After three years and counting, the struts are trouble-free and do a great job of raising and holding up my hood. They also have a clean look, as seen in the picture above, and despite what some may think, they are installed correctly - with the piston rod in the down position.
Note: These hood struts are so fantastic that I also added them to my daily-driver '14 Explorer (the Sport version, of course!). I was chomping at the bit for the guys at Redline to come up with the SUV kit, and they didn't disappoint. You know you've found a great product when you not only use it on your toy, but put it to use on other vehicles as well. Even better, they took all of about 15 minutes to install and look like they came there from the factory. For lack of a better word, 'props' to Redline for keeping up the great work!
A real nice personal touch that can be added to your Terminator is an aluminum data plate that fits in to the recess on the radiator cover. I figured this was as good of a place as any to put this section even though these come in a set of two, with one here and the other inside the car on the shifter bezel. I actually have a custom signed radiator cover (shown on my SVT Stuff page) but that only comes out for shows. During normal times, my stock cover is always on, which includes the data plate shown below. I jumped on a forum bandwagon several years ago and purchased a set of these through one particular vendor, but he ceased production of them some time soon after. On a good note, there are still other sources.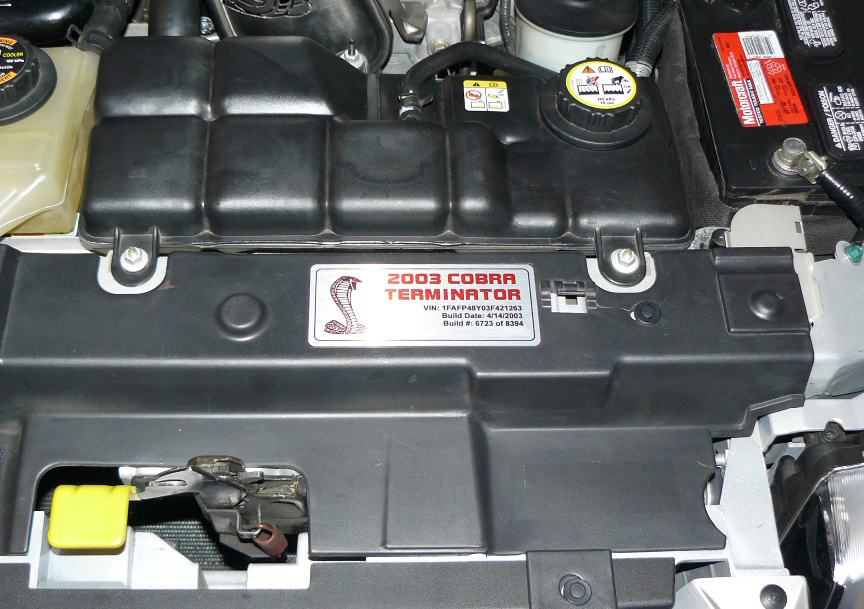 One version is made by Data Plates Plus and are customizable in just about any way you can imagine. The business owner, Tony Sorrentino, also happens to be the proprietor of the SVT Cobra Mustang Club. He makes these plates for clubs, along with versions for Terminator, Bullitt, and other Mustang owners and has been doing so for many years. Another good guy to get in touch with is Jason Shepherd at Anchor Room. Among the myriad of items on his site, including boards for car shows, Jason also makes some real nice plates set up to whatever suits your tastes. As you can imagine, the possibilities really are endless!
An additional one I acquired, more for the "collectability", is an example of those sold by the SVT Store. Members of the former SVTOA probably know about these, but I figured I would add a picture of one just to show something different (they are also aluminum, but the thumbnail image is a slightly edited proof). Like the others, these come as a set of two, and are shown with basic information on them including the SVTOA number, but can also be customized to your liking with many different images. Mine didn't get attached to the Cobra, rather, will be framed and mounted on the wall with some other SVT memorabilia.

The aluminum fuel door was one of many unique parts from the Bullitt that fit perfectly on all '99 to '04 Mustangs. With a silver car, this is one accessory that just looks great and doesn't stand out too much. They've become so popular over the years that plenty of imitations have even popped up. Still, there is nothing like an original part, and that is definitely true here. Even better, you can toss the flimsy factory stamping while adding a solid piece with a touch of class.
The door is actually made for Ford by a company called AMP Research and was available through Ford Racing as M-2301-E. If you happen to find the Ford version out there, it was 1R3Z-63405A26-AA even though it is now officially obsolete. For more than you ever wanted to know about it, check out the patent document.
Not one for liking the trend of "blacking out" certain items on cars, I was actually never a fan of the original "smoked" headlights that became a Mustang norm in 2001. With a silver car, the dark headlights just didn't look right. I definitely didn't want to replace the OEM parts with low quality leak-prone aftermarket offerings, and I have yet to jump on a Bi-Xenon retrofit. Fortunately, there was a solution: original Ford clear headlights that were standard on the 1999 Cobra (as well as any '99-'00 Mustang).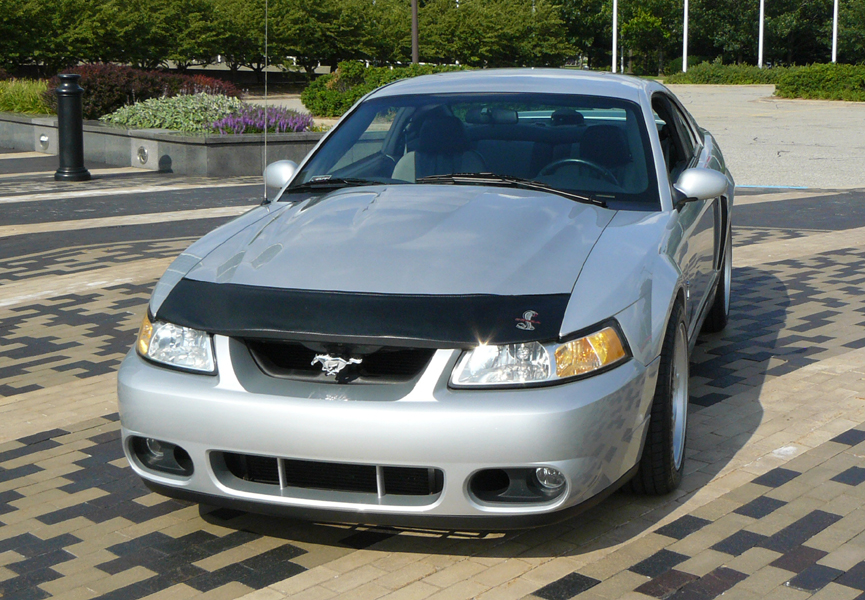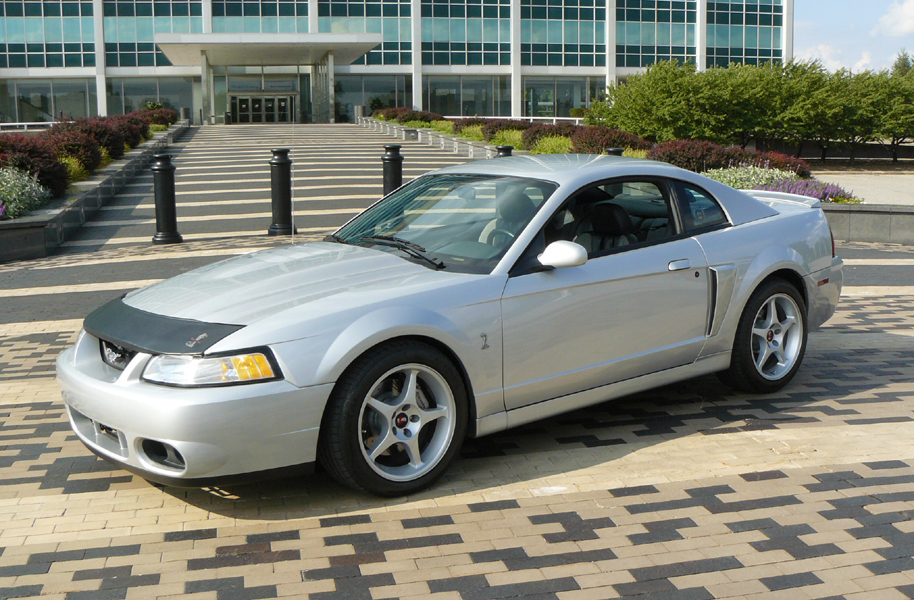 On an unfortunate note, new replacements through Ford were almost twice the price as the smoked versions, so that didn't thrill me. Luckily enough, I was able to find not one, but two mint condition sets on the internet for less than what a single Terminator headlight would cost. I suppose the popularity of the newer style has made it easier to acquire these, but I was perfectly happy to get my hands on them. Even better - they look perfect.
Adding to this, I decided to up the lighting power just a hair (for now) with another simple addition: Sylvania Silverstar Ultra bulbs. It was easy enough to add the new bulbs while the housings were out, and while I was at it, I swapped the fog light bulbs as well. The new output was noticeable, but for whatever reason, I neglected to snap any pictures. In any case, the pictures above, taken in front of Ford HQ in 2012, show how nice the clear headlights look.
Note: If you have to replace headlights, the OEM Ford parts are always going to be the highest quality, but they are gradually being phased out. For Terminator owners, the factory versions were 3R3Z-13008-CA (R) and 3R3Z-13008-DA (L). For the earlier clear look, their part numbers are - or were: YR3Z-13008-AA (R) and YR3Z-13008-BA (L). If those don't turn up, a second option (if you are picky) is to look for those that are CAPA Certified, meaning held to the highest quality standards for aftermarket parts, especially headlights. A worthwhile company to check out here is OE supplier TYC Genera. If you like the '99 clear look, the CAPA Certified TYC lamps carry the part numbers 20-5695-01-9 and 20-5696-01-9. For the fans of the smoked version, check out 20-5695-91-9 and 20-5696-91-9. They are not only economically priced, but will look great and actually last.

Yes, these are definitely out of fashion. At the moment, however, it beats getting any rock chips on my nice hood. Besides, I always like to get my hands on Ford aftermarket parts, and I was happy to score this complete mask in like-new condition for a great deal. There is also a lower half that covers the complete bumper, but unless I'm taking a road trip, it rarely gets used (it's obviously left off in the pictures above).
I've contemplated adding the Xpel Ultimate film one of these days, but I have yet to get moving on that. For now, the "mini-mask" works just fine (and there are several different aftermarket companies that still do make them). There is no big surprise as to how it fits, but if you happen to come across one on the used market, the Ford instructions have some useful details. These don't pop up often, but the Ford kit once was 3R3Z-19A413-AA, so keep your eyes open if you are on the hunt!
If you are even a bit fanatical about organization, this CoverCraft pod is a great add-on. Not only does it match the factory trunk fabric, it covers up the bare underside of the deck lid. Even better, the three pouches are great to stash small items, especially the owners manual binder that just doesn't quite fit in the glove-box or the center console.
I definitely wasn't a fan of any sort of filler panel displaying the word "Cobra" or "Terminator", so this was a perfect choice. Even better - it is functional. If you like it and would be interested in snagging one, the part number is TO1013CH, and it was an easy score through American Muscle for $115.

Just in case, I'll also mention the other version that is available out there from CDC, know as the "Detail Corral". It looks to be made out of a thermoplastic material and covers a little more of the trunk lid, but it will do the same job just fine. It's a bit more expensive, but when it comes to our Cobras, money is usually no object!
This one is simple - especially if you are still staying on the organized side. The OE cargo net slips on to two existing posts behind the tail-lights (used to secure the rear panel), and hangs right across the trunk opening as seen below. It is not only functional, but fairly unobtrusive and easy enough to pop off when the need arises. The Ford part number is F5CZ-54550A66-AA and it goes for about $40.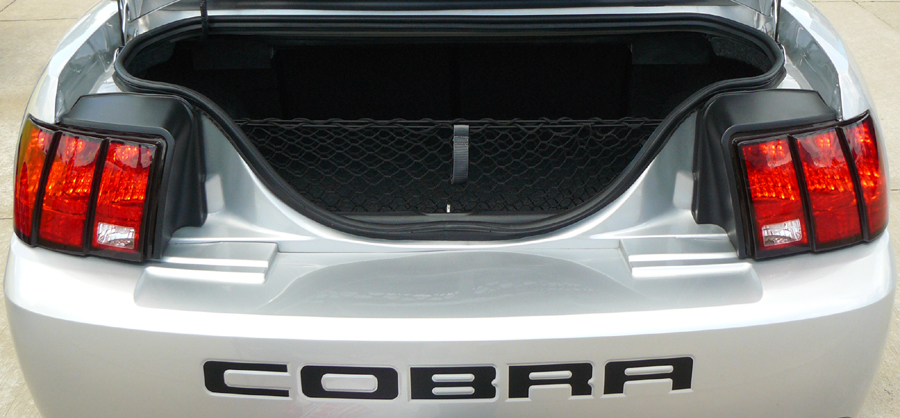 This is something totally trivial, but for those of us that like to be organized, it was a neat add-on. Since I like to always carry a quart of oil in the car, and don't want it rolling around in the trunk, I picked up a very cool velcro-backed Mobil1 oil pouch, courtesy of Porsche. This vinyl pouch fits a quart bottle of oil and comes with a small foldable funnel and a pair of rubber gloves in case you are picky about getting your hands dirty in the event you have to get under the hood while out and about. There is also a bit of extra room in it to keep a small rag, so even better.
It can be found through any Porsche dealer under their part number PNA000-100-19 (shown in the thumbnail), but I grabbed mine off eBay for less than $20. I didn't necessarily like their logo on it, but it wiped right off thanks to a bit of Acetone (it still has "Mobil1" embossed on it, which is perfect since I am a fan). I stuck it to the rear trim panel, forward of the driver's side tail light where it is completely out of the way. With the velcro holding it on, it has never come loose. It's definitely a case where form and function came together perfectly, and for the most part, you probably will forget it's back there - until you really need it.
This is definitely an area where tastes vary considerably. I liked the idea of accenting the "COBRA" lettering in the rear bumper, but didn't want to get carried away. Certain colors look great on some cars and not so great on others. What appealed to me was a matte-black finished decal (rather than a metal insert) that matched the trim on the lower bumper - easy enough. My initial foray in to this was on the inexpensive side since I wasn't sure if I'd really like them. I picked up a set from a vendor on eBay (licensed, of course), but while smoothing out the air bubbles, I ended up slightly gouging one of the letters.
No worries though, since I decided they were a great addition! For the second round, I decided to splurge and go with one of the big names in Ford graphics: Bob White decals. The new set was noticeably thicker and still looked great. I didn't bother to get any close-up's, but they are easy enough to see in the picture above. If you are looking for a nice product at a reasonable cost - with great service as well - don't hesitate to jump on over to Bob's site.
Note: Since tastes do vary when it comes to these personal touches, so do the sources to acquire what fits your needs. While I mentioned the vendor I preferred for the inserts, there are definitely many others out there. If you like different patterns, colors, and materials, all it takes it a simple internet search to bring up a wide selection. Even better, if you try one version and decide to move on, these "decals" are a breeze to remove and replace!
---